A few of our favorite things!
ChickLit GirlFriends Gift Guide: Volume 1
The ultimate girlfriends gift guide.
For the ultimate snarky trendsetter, this awesome bag says it all. Available at Girrlscout for $25
2
Get the Legendary Looks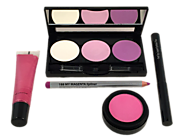 The Hollywood Beauty Detective uses a psychological profile to determine who you are as a person then matches those results to one of 10 Legendary Looks. Founded by Hollywood Celebrity Holly Fulger and designed by Celebrity Makeup Artist Melissa MacNamara, The Hollywood Beauty Detective line has a look for everyone and a message that fits: nobody is perfect, but every woman can be Legendary!
3
NuDown Squaw Peak Ultra High Tech Jacket
4
The Only Pumps You'll Ever Need
Like the little black dress, every girl needs a pair of Christian Louboutin black pumps. Always in style, comfortable, and makes a statement with every step.
5
Hands Free Blow Dry (For Mermaids and Humans)
For those like me that can't keep your arms up over your head while you dry your hair! Designed by a hair stylist, this holder was made with all sizes and weights of hair dryers in mind. Easily brush and style your hair while using your blow dryer and never feel like you don't have enough hands again! Simply use 4 included screws to mount to any wall you wish. <-- we did this with a high heel and a butter knife! 🙂 Available at Amazon.